European Car Specialist
If you are looking for the most reputable European car specialist in Hawthorn East, look no further than Bob Watson Service Centre. From factory scheduled maintenance and performance issues to complex mechanical repairs, our auto specialists provide great service and exceed your expectations. We take pride in servicing a variety of European car brands, including Audi, BMW, Porsche, Volkswagen, Mercedes-Benz and much more. With several years of experience in the auto repair industry, we are your dealership alternative.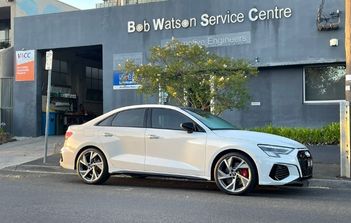 Audi Service:
Audi is one of the top luxury vehicle manufacturers in the world. We have dedicated mechanics who go an extra mile to offer the highest quality service and exceed your expectations. Whether it is an oil change or a major repair, we can provide top-notch Audi service for any Model.
BMW Service:
When you bring your BMW vehicle to us, we focus more on keeping your vehicle running safely and efficiently. Our mechanics are committed to ensure the satisfaction of our customers and deliver personalised BMW service that they expect and deserve.
Mercedes- Benz Service:
Mercedes Benz is synonymous with quality, luxury, and performance. Being one of the most luxurious automotive brands, it continues to set high standards in terms of automotive excellence. If you experience any problem with your Mercedes, bring in your car for quality European car brands Mercedes service.
Volkswagen:
We all know that Volkswagen is all about long life, safety, and performance. If you want to maintain the performance of your vehicle for years, you must adhere to manufacturer recommended service schedule. Our mechanics' service Volkswagen vehicles of all makes & models including, New Polo, Golf, Passat, Arteon, Amarok, Golf Wagon, Tiguan and so forth.
Porsche:
Porsche cars are extremely comfortable to ride in. With proper care and regular maintenance, you can extend the life of your car. Our service specialists provide exemplary Porsche service to its line of SUV, sedan and hybrid models.
Do you own a European car? Looking for a specialist to handle your car problems? Feel free to call us now at 03 9882 2451!