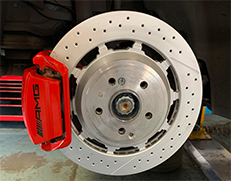 Subaru is a one of a kind vehicle with its standard symmetrical all-wheel drive and a BOXER engine under the hood, which is built for exceptional performance for the long road ahead. So, if you're suspecting that your Subaru needs some maintenance and care, you can count on our Subaru camberwell service at Bob Watson Service Centre. We have the state of the art facility and certified Subaru mechanics to take care of your Subaru vehicle. Our Subaru service is designed to offer the most convenient and stress-free servicing experience possible.
Maintenance
Regular maintenance is required for your Subaru camberwell, and it is the best way to keep your Subaru running at its best. At Bob Watson Service Centre, we believe in keeping your Subaru in top condition. We are equipped with advanced tools and equipment to diagnose your vehicle. Also, we have several bays that allow for a hassle-free and convenient Subaru service. We only use manufacturer-approved parts and when you come to us, you can have the ultimate peace of mind and expect a high-quality service.
We tailor our Subaru camberwell service to match your requirements. We provide complete diagnostics for your high-end vehicles including brake and clutch repairs, wheel alignment services, air conditioning repairs, power steering repairs, exhaust repairs, and more.
Repairs
Whether the clutch in the Subaru is beginning to go out or if you are hearing a grinding sound, or suspecting that it needs servicing or repairs, you can rely on our Subaru Service. Regardless of whatever issue your vehicle has, we will fix everything from a minor mechanical repairs to major complex issues with professionalism and advanced service.
Our teams of expert Subaru technicians will provide undivided attention in taking care of your Subaru vehicle, and make it perform like a newly bought one. We will execute the inspection and diagnose any underlying issue in your Subaru and resolve it on time.
We also have extensive knowledge in performing regular maintenance & car service, logbook service, roadworthy certificate, exhaust repairs, pre-purchase inspection, mechanical repairs and much more. If you're looking for certified Subaru service in Hawthorn East, you can call the expert mechanics at Bob Watson Service Centre. For appointments, call 03 9882 2451 today.