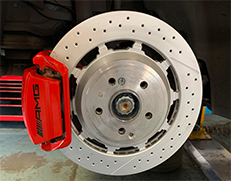 Ford cars are generally recognised for their class and style. Also, there are expensive models of Ford packed with elegance and efficient safety features. If a high-quality Ford service is what you're looking for, you can turn up to Bob Watson Service Centre. We repair and service for all of Ford's expensive makes and models. Our trained mechanics ensure to provide a cost-effective and efficient service that you expect.
At Bob Watson Service Centre, we strive to give exceptional service to your Ford vehicle. That's why we offer affordable service for all Ford Makes and Models without compromising on the quality.
Maintenance
Give your Ford the best care and attention it deserves. When it comes to maintaining your car, you should keep up the routine maintenance and repair to upkeep its efficiency. Whether you're looking to have an oil change or a brake inspection, our team of mechanics will be right there to help. Whatever maintenance requirements you have for your vehicle, we will take care of everything to get you back on the road.
With the support of our trained Ford mechanics, you can expect a high-level professional Ford service. From detecting the issue to servicing with the top quality oil change, we take care of your vehicle thoroughly to improve its efficiency, performance, and longevity.
Repairs
Car repairs are inevitable. Moreover, when your Ford vehicle is delivering a poor performance, you require the help of an expert Ford Mechanic. That being said, whether it's an oil change or a complex mechanical repair, you can trust our team of Ford mechanics, we can perform any type of repair job on your vehicle.
We specialise in Ford repairs and services. We can also guarantee that your vehicle will receive a top-notch service from us. With our Ford service, you can witness the seamless driving experience like never. We also have extensive knowledge in performing regular maintenance & car service, logbook service, roadworthy certificate, exhaust repairs, pre-purchase inspection, mechanical repairs and much more.
Need Ford Service in Hawthorn East? Call 03 9882 2451 today.